ALL BLOGS
Takeaways from the New iPhone 11 Announcement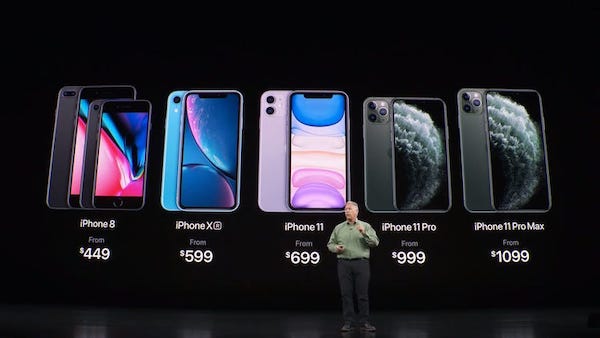 Yesterday Apple announced the iPhone 11 at its launch event in San Francisco. Here are our important takeaways from the announcement:

Major focus on cameras

This time around they gave a serious upgrade to the camera, especially on the brand new iPhone Pro model, which has three cameras altogether: a telephoto lens, a wide angle lens, and an ultra-wide angle lens. The tri-camera layout is even causing anxiety in those with trypophobia.

The camera upgrade isn't just in the hardware though – now you can take something called a slowfy, which is apparently just a slow-motion, live selfie. Wild.

Force touch on the way out?

It's been rumored for a while that this revision would spell the end of the force touch (also commonly called 3d touch) feature. While it hasn't been completely phased out, it has been replaced by another feature Apple is confusingly referring to as "Haptic Touch".

Rather than a pressure sensitive pop like with force touch, Haptic Touch is a long press that's similar to the long press on other devices like the iPad, but paired with haptic feedback. So, you get a little electric response when you press. Seems promising, but we'll have to see how this works once we finally get our hands on one of these new devices.

No XR update

The extremely popular XR model, introduced last September, did not get an update. It had a minor price decrease, but the lack of attention to it has a lot of people speculating about the model's future. It could very well be fully replaced by next Fall.

Overall impressions

Are we excited about this year's new iPhones? Not really. It's a pretty major upgrade if you're very interested in photography, but other than that, it's the usual minor performance and battery life boosts. Unless you're in need of a new iPhone, or you're a photography buff, we think it's probably best to wait for next year.